The ultimate London's parks guide
London is one of the greenest cities in the world, with plenty of spaces to enjoy the outdoors.

In this post, we will tell a bit about the best spots to enjoy the outdoors in London.
Holland park & Kyoto Gardens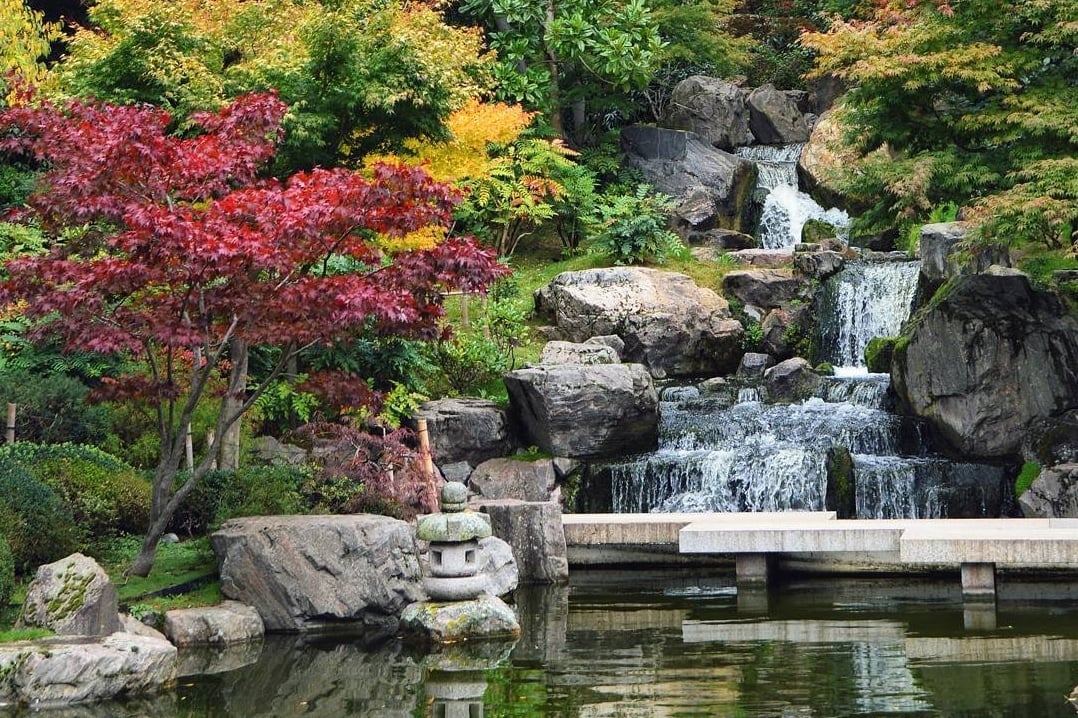 The park is just around the corner from our school.
Covering about 22 hectares, it contains a café, as well as the Belvedere Restaurant, a giant chess set, a cricket pitch, tennis courts, two Japanese gardens - the Kyoto Garden (1991) and Fukushima Memorial Garden (2012), a youth hostel, a children's playground, squirrels and peacocks.
Nearest station: Holland Park, Shepherd's Bush
The Regent's Park is one of London's eight Royal Parks and covers an area of 395 acres. The Park is the largest grass area for sports in Central London and offers a wide variety of activities, an Open Air Theatre, the London Zoo, gardens and a boating lake.
Named after the Prince Regent, sometimes known as the playboy prince, who later became King George IV (1762-1830).
Nearest stations: Baker Street, Portland Place and Warren Street
With 350 acres, Hyde Park is one of the four Royal Parks that form a chain from the entrance to Kensington Palace through Kensington Gardens and Hyde Park, via Hyde Park Corner and Green Park past the main entrance to Buckingham Palace. The park is divided by the Serpentine and the Long Water lakes.
Besides all the natural beauty, the park has the famous Speakers' Corner has been established as a point of free speech and debate since 1872.
The park also is known for hosting big concerts and festivals. To mention some of the bands that played at the park in the past: Pink Floyd, Fleetwood Mac, Rolling Stones, Elton John, Bon Jovi and many more.
Nearest stations: Hyde Park Corner, Knightsbridge, Marble Arch, Lancaster Gate, Paddington
Green Park covers just over 40 acres between Hyde Park and St. James's Park. Together with Kensington Gardens and the gardens of Buckingham Palace, these parks form an almost a single connected green area. It consists almost entirely of mature trees; the only flowers are naturalised narcissus.
Nearest stations: Green park, Picadilly Circus, Hyde Park Corner, St. James Park
London is famous for its many parks, but we particularly enjoy St James's. St James's Park includes The Mall and Horse Guards Parade, and is surrounded by landmarks such as Buckingham Palace, Clarence House and Whitehall.
The park's famous flower beds at the front of Buckingham Palace are a familiar backdrop to contests and Royal shows and parades, such as the Trooping the Colour. Enjoy impressive views of the lake and fountain from St James's Café, and watch the resident pelicans at feeding time, or while away a sunny afternoon in a deckchair. Yes, we said pelicans!
It has only 57 acres.
Nearest stations: St. James Park, Westminster, Charing Cross, Green Park, Victoria, Picadilly Circus, Embankment
Overlooking the River Thames and home to some of London's most iconic views, Greenwich Park is an amazing mix of 17th century landscape, stunning gardens and a rich history that dates back to Roman times.
Greenwich Park has something for everyone. Stand on the Prime Meridian, the reference point for Greenwich Mean Time (GMT).
Follow in the footsteps of England's kings and queens with a walk through ancient tree avenues . Visit the tranquil Flower, Herb and Rose Gardens , explore the Park's wildlife and don't forget to see the Queen's House and the Greenwich University.
Nearest stations: Cutty Sark, Greenwich
Hampstead Heath is a wild park of woodland and meadows tucked inside north London. It has over 800 acres and counts with some of the most spectacular views in the city.
The park embraces ponds, recent and ancient woodlands, a playgrounds, and a training track, and it adjoins the former stately home of Kenwood House and its estate. The south-east part of the heath is Parliament Hill, from which the view over London is protected by law.
This location is well-known for the Hampstead Heath ponds, which are popular spots for London residents to cool off on hot summer days.
If you're brave enough to swim in a deep water, head to Hampstead Heath's Men's Bathing Pond, Ladies' Bathing Pond, or Mixed Bathing Pond for a swim.
Nearest stations: Hampstead Heath, Gospel Oak
The park is a top UK site for ancient trees and supports a range of rare species including fungi, birds, beetles, bats, grasses and wildflowers.
Discover the Isabella Plantation woodland gardens and enjoy distant views of St Paul's Cathedral from King Henry's Mound.
Try your hand at power kiting, horse riding or golf, or hire a bike for some off-road cycling along the Tamsin Trail.
Being the largest of the Royal Parks, with 2360 acres, the Richmond Park has a national and international importance for wildlife conservation. It was created by Charles I in the 17th century as a deer park.
Nearest stations: Richmond, The Kew Gardens
The charming neighbourhood is a great spot for some Instagram worthy pictures during spring - it is just 20 minutes walk or one stop away from our school!
Nearest stations: Notting Hill Gate, Ladbroke Grove
Where will be your first stop?
Post your questions and comments: