Other services in the school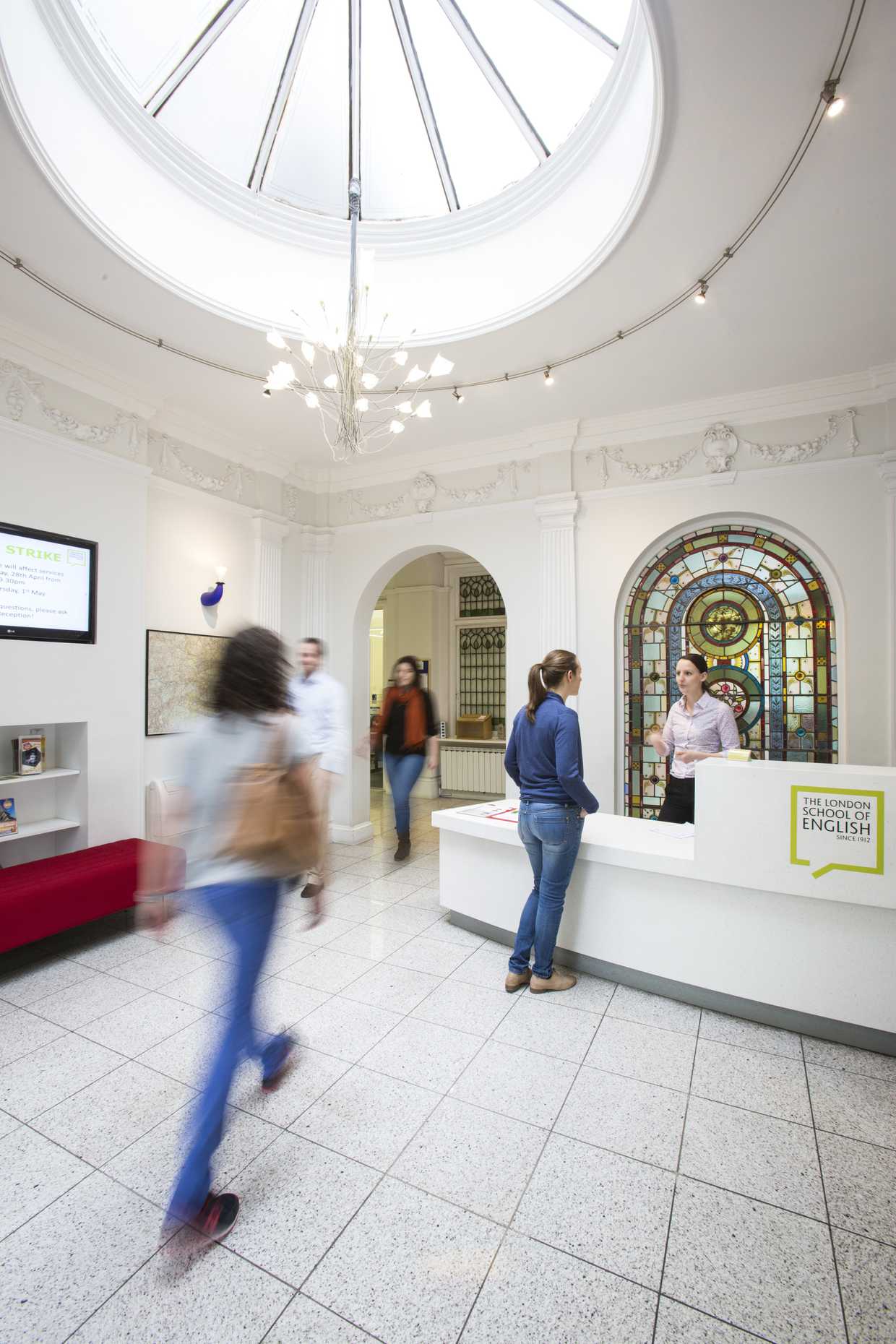 Services at reception
It is our aim to make sure that you have the best possible learning experience at the school and enjoy the time that you are in our diverse and exciting capital city. To ensure you to make the best of your time in London, our Receptionists at both schools are on hand to help you.
Below are services that we regularly offer, but please let us know if we can help in any other way:
book taxis
book theatre tickets
book a table in a restaurant
advise on good places to go
buy English language books
Also, sometimes you don't come with everything you need! If you leave a deposit at Reception you can borrow the following:
adaptor plugs
phone chargers (we have phone chargers for many types of phone but we cannot necessarily guarantee we have the right charger for you)
Shower facilities
At our Holland Park Gardens centre we have a shower that you can use, for example if you would like to go running before your course starts in the morning and you don't have time to go back to your accommodation.
Please ask at reception if you have any questions.
Wheelchair access
Unfortunately our centre in our Holland Park Gardens is an old building which cannot easily be adapted to accommodate wheelchairs, and so there is no wheelchair access.

Unhappy about anything?
We hope that you are happy here. However, sometimes you may have a problem, or things can go wrong, and this is what to do if this happens:
If you have a problem, please tell us. Your problem may be practical – for example to do with your course or your accommodation – or it may be personal – for example to do with a member of staff or another student. We are here to help you, but we can only do this if we know the problem exists. So please tell us about it at once. You can speak to anyone that you feel comfortable with.
If you are still not happy and you want to complain, please speak to our Director of Courses or our Courses Manager. We take every complaint very seriously and will look at your problem carefully and tell you within 24 hours what action we will take.
If you are still not happy, ask to speak to our Chief Executive, Hauke Tallon. He is usually in the building in Holland Park Gardens. Unless he is abroad on business he is always available to help you with any problems. If you would like to submit a complaint in writing please write to Hauke Tallon, Chief Executive, 15 Holland Park Gardens, London W14 8DZ.
We're a member of EnglishUK – the association for accredited English Language Centres – and if you're still unhappy, you may take your complaint to the ombudsman of this organisation. The ombudsman is an independent person who investigates complaints. We promise to follow the ombudsman's recommendations. Please ask us for information, or you can contact EnglishUK direct at 219 St John Street, London EC1V 4LY. Telephone: 020 7608 7960.
The school is also accredited by the British Council and you may also contact this body with a complaint about our services. The British Council address is:
Accreditation Unit, British Council, Bridgewater House, 58 Whitworth St, Manchester, M1 6BB. Telephone 0161 957 7692. Or e-mail: accreditation.unit@britishcouncil.org.
Why study at The London School of English?
Rated "Excellent" based on over 1500 independent client reviews
Over 100 years' experience
Tailored training delivers clear results
Memorable experiences in London and online
Find out more