We don't have trainer vacancies at the moment.
We have a large number of permanent training staff. We believe this is important to maintain reliability and quality in our courses and to develop new materials and approaches to language learning and teaching. We currently employ 18 permanent trainers. We also use fixed-term contract trainers for shorter periods as well as carefully selected freelance trainers. In this way we can maximise our flexibility and make sure that staff experience and expertise precisely match the client's needs.

We are a training organisation and as part of that our trainers are always developing, making sure their skills and knowledge are up to date.
All of our trainers, carefully selected for their qualifications, expertise and experience will:
Focus on what you personally need in order to reach your goals
Provide both an interesting and challenging learning environment
Give you the strategies to communicate with confidence in and outside of the classroom
Trainer Standards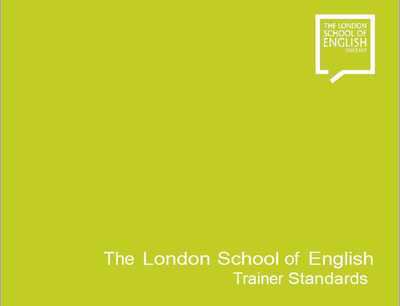 The Trainer Standards outlines our approach. It shows how we make sure that our courses give our clients an effective and rewarding experience.
Download
All our trainers have the Cambridge ESOL Certificate in Teaching English as a Foreign Language to Adults (CELTA), or equivalent, as a minimum. Most of our permanent training staff have the Cambridge ESOL Diploma in Teaching English as a Foreign Language to Adults (DELTA) as well. A number of our trainers also have an MA in Teaching English as a Foreign Language or Applied Linguistics.
In addition to a qualification in English Language Teaching, a number of our trainers hold a professional qualification in other professional fields such as finance and law. This previous background can be very valuable when working on Individual Tuition programmes in their client's specialist area.
The average age of our training staff is around 41. The average experience of English language training to international students, working service in this school and previous experience is 11 years. Trainers have usually taught abroad as well as in Britain.
Professional development is a priority for us: trainers regularly have time out of class to work on new programmes, materials and techniques. Staff regularly attend in-house training seminars.
It is not easy to get a job at The London School of English. Our clients get the best because we employ the best.
If you wish to apply for a vacant position, please send your CV to:
Ben Butler, Head of courses, is responsible for recruitment of trainers for our London centres. His email address is Ben.Butler@londonschool.com