IELTS Preparation – Virtual Groups
The International English Language Testing System exam (IELTS) is an essential qualification needed by anybody whose first language is not English, and who aspires to study at a university or training college where programmes are taught, or who would like to add this well-known qualification to their CV.
This virtual academic IELTS exam preparation course will prepare you to achieve your best possible result in the exam. This course is delivered in small groups and taught by experienced examiners who have an in-depth understanding of what you need to know to get your best possible score.
You will focus on all of the skills you need for the exam: listening, reading, writing and speaking, as well as improving your vocabulary, grammar and pronunciation. You will develop strategies and techniques which prove helpful for the IELTS exam.  
You will also receive support from our University Relations Manager who will be able to answer all of your questions about University and College applications.
This course is offered at two different times during the day so you can choose the best option for your time zone. If you book online on the weekend, please be aware that you course will be confirmed on Monday morning, and the 6 am session cannot be booked.
This course gives you the opportunity to network with other aspiring academic students and researchers to broaden your international network without having to travel. 
Please note that course availability is subject to enquiry. Contact us here.
Do you have any questions?

Who is it for? 
This course is for people who need to demonstrate their level of English with an IELTS score. Many universities and training colleges ask that you have a minimum IELTS score to be accepted to their programmes. Many employers also like to see the confirmation of an employee's English level that an IELTS score can provide.
You will practise the different parts of the academic IELTS exam and will get detailed feedback from your trainer to help you develop and improve the skills you need so you can achieve your highest possible score.
People aged 16-17 are welcome to join this course between 21st June and 20th August. If you are aged 16-17, please contact us directly to make a booking.
How training is delivered 
Training is delivered using the online communication platform Zoom, which is compatible with all laptops, desktops and mobile phones.  
Instructions on how to join the virtual group will be sent to you. 
Watch a short video on our IELTS Virtual Groups course and how to prepare for the exam.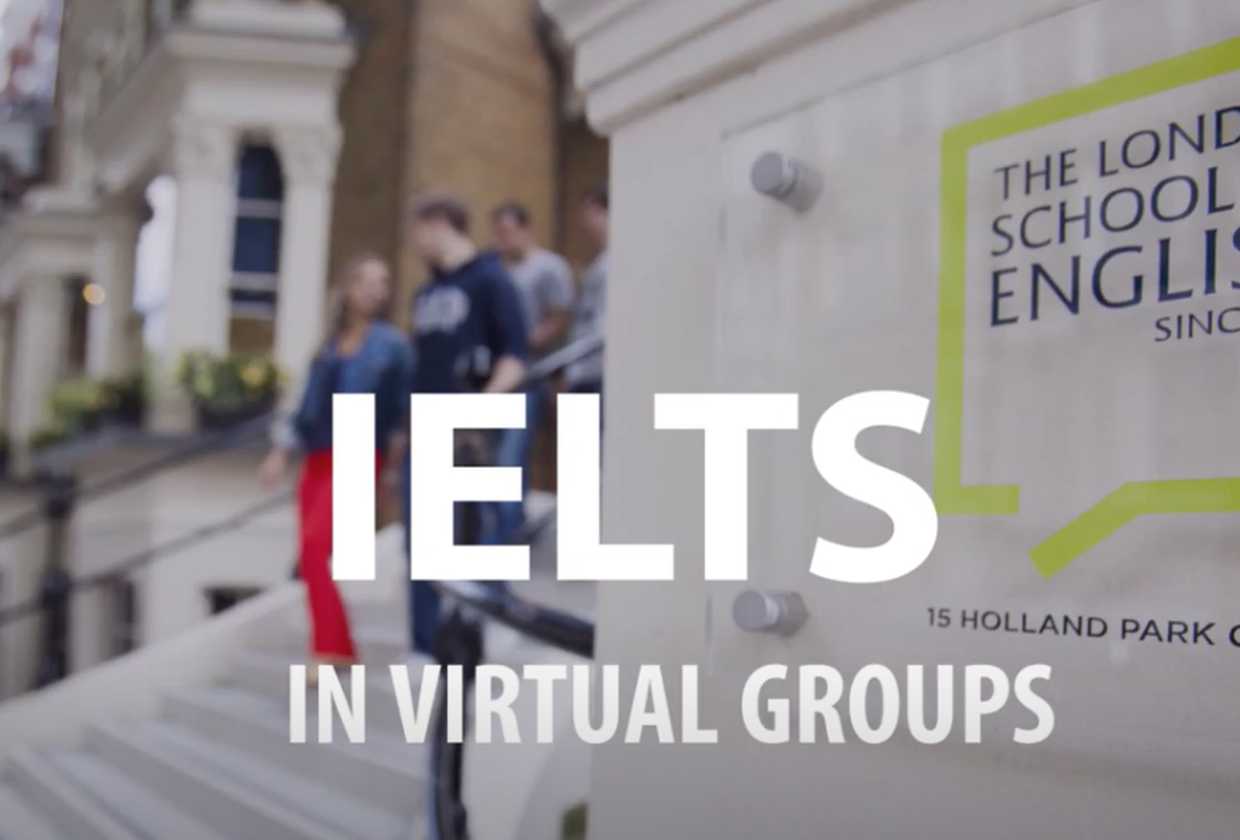 Homework
To achieve your best possible result, you will be expected to do 2-3 hours of self-study every day after each course session. We will provide all the materials you will need for the homework.
Benefits 
By the end of the course you will be able to: 
Achieve your best possible IELTS result  

Be able to listen, read, write and speak with greater confidence

Understand the academic IELTS exam techniques

Use a wider range of academic and general vocabulary and grammar

Be able to recognise the areas of the IELTS exam you need to improve
Everything you will learn on this course is related to the IELTS exam. During the course you will be able to do regular exam practice and you will receive feedback, correction, and advice. 
Course content 
Listening, reading, writing and speaking activities 

Developing greater accuracy in grammar 

Expanding general and academic vocabulary 

Becoming more natural in pronunciation 

Developing effective exam strategies and techniques 

Practising and analysing exam questions 

Discussing feedback, correction and advice from your trainer 

Regular section practice

Feedback and correction

Full IELTS exam practice
Optional extras 
You can choose to upgrade your experience by adding on 5 or 10 hours of individual Skype training for personalised intensive training. 
Included in the fees: 
All course materials and resources 

Full IELTS exam practice

Three months access to London School Online platform

Detailed end-of-course progress report 

Certificate of course completion
Are you interested in applying to a British university? Watch this video to find answers to the most common questions