The Common European Framework of Reference (CEFR) is a system for measuring and describing language levels. If you would like to find out your CEFR level for English, take our 20 minute free Online English Level Test.
| CEFR level | Description | What this means | IELTS level/The London school of English class level |
| --- | --- | --- | --- |
| C2 | Very Advanced | I speak and understand English completely fluently. | 9 |
| C2 | Advanced | I speak and understand very well but sometimes have problems with unfamiliar situations and vocabulary. | 8 |
| C1 | Pre-advanced | I speak and understand well but still make mistakes and fail to make myself understood occasionally. | 7 |
| B2 | Upper Intermediate | I can communicate without much difficulty but still make quite a lot of mistakes and misunderstand sometimes. | 6 |
| B1 | Intermediate | I can speak and understand reasonably well and can use basic tenses but have problems with more complex grammar and vocabulary. | 5 |
| B1 | Low Intermediate | I can make simple sentences and can understand the main points of a conversation but need much more vocabulary. | 4 |
| A2 | Pre-intermediate | I can communicate simply and understand in familiar situations but only with some difficulty. | 3 |
| A2/1 | Elementary | I can say and understand a few things in English. | 2 |
| | Beginner | I do not speak any English. | 1 |

What is the CEFR?
The CEFR is a system that is used to measure and describe language levels for foreign language learners. It is 'language neutral' so it can be used for any language. It is useful to know about CEFR if you are studying English because it is often used in language schools, in educational materials such as textbooks, and exams.
It was first published in 2001 and was designed for use in Europe, to promote educational transparency (making education clear and easy to understand) and to allow movement between countries in the EU for work or study. Since then it has been translated into 37 languages and is now used all over the world, not just in Europe.
The full chart is available on the Council of Europe website. It also has versions available in several European languages.
How many levels are there?
There are six levels in CEFR: A1 (lowest), A2, B1, B2, C1 and C2 (highest). The "A" levels mean "basic user", the "B" levels mean "intermediate user" and the "C" levels mean "proficient user".
The levels are based on a series of 'can do' statements that describe the things you can do in the language you are learning (in this case, English). For example, at level A1 a learner 'can introduce themselves' and at level B2 they 'can speak about a wide range of subjects'. The can-do statements cover five language skills: spoken interaction (having a conversation), spoken production (what you can say), listening, reading and writing.
How long does it take to move up the levels?
Of course, every learner is different, but the Association of Language Testers in Europe (ALTE) have created a rough guide to the number of hours of 'guided learning' that are needed to progress through the levels. 'Guided learning' means help with a teacher – this includes homework.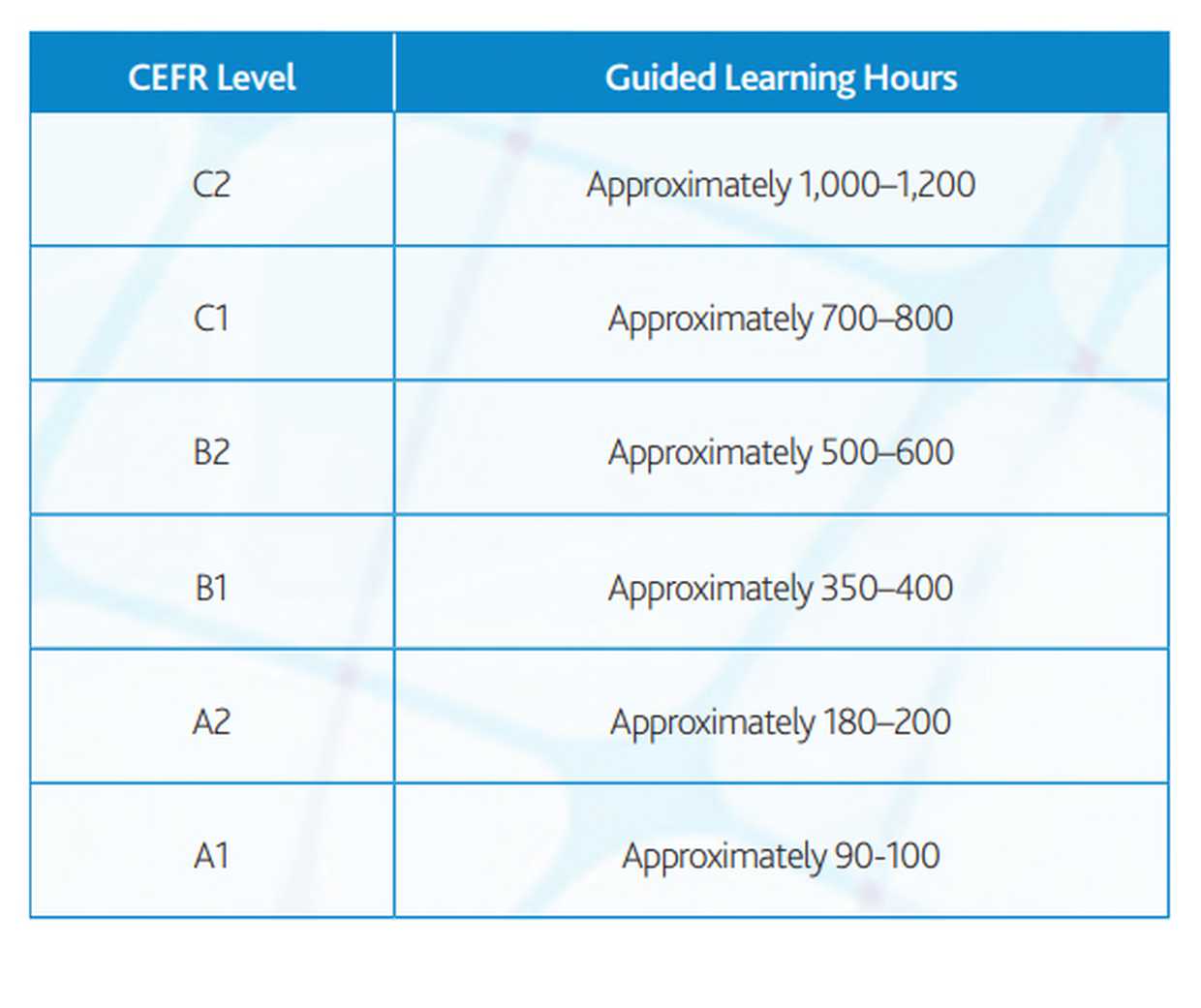 As you can see, the higher levels require more learning hours than the lower levels. This is why it can sometimes seem like your progress slows down as your English level increases.
What does my exam score mean on the CEFR scale?
Different English language exams have different scoring systems, but all the well-known ones can be measured on the CEFR scale. The CEFR scale is very useful in this way, because no matter which exam you take, you can always explain your result in a standard way that everyone can understand. This is helpful if you are applying for a job or to study at university, for example.
---
Improve your confidence in spoken English with our General English course or Individual English training in our centre in London or online.
---
Things to remember about levels
As a language learner, you will be keen to make progress and so of course you will want to measure your English level often. This can be a good idea – BUT there are a few things to remember when checking your level:
Language learners are not always the same level in every language skill: for example, your listening may be a lot stronger than your speaking, or your reading might be better than your grammatical accuracy. When you take a test or are given a level assessment, the level will be an overall level.

People make progress at different speeds, for different reasons. Your journey as an English language learner is unique to you, and so sometimes it is not helpful to keep comparing yourself to other people or continually check your level.

Try to set yourself realistic goals. Becoming fluent in a foreign language takes a long time. Don't be too disappointed if you don't move up the levels as fast as you expect. As long as you are practising English regularly you will be making progress.

Your level of English can go up and down over time, depending on how much you are using it in your everyday life. For example, if you get a job where you speak English every day to colleagues, your level will obviously increase. But if you move to a different job and stop using English every day, your level will probably go down. This is normal, and if you start to study or use English again you will quickly return to your previous level and even go beyond it.

You can improve your level by doing things outside the classroom. Socialising with English-speaking friends, reading the newspaper and watching films and TV in English will all help to improve your level. Find something you are really interested in, and use English as a way to learn more about it. Learning will feel like fun, instead of hard work!
This blog post was written by Harriet, one of our trainers at The London School of English
---
About The London School of English
The London School of English has over 100 years of history teaching English and communication skills to adult learners. It is the joint #1 English language school in the UK according to the British Council inspections, the highest rated English language school in the world on Trustpilot, and the best value for money school according The English Language Gazette.
Our practical, individualised approach enables our clients to learn effectively and make rapid progress. Courses include General English, Individual English training, Legal English, Business and Professional English, IELTS preparation and Academic English. We also offer bespoke business solutions for staff training and assessment.
You can learn English with our expert trainers in our London centre at 15 Holland Park Gardens, in the Royal Borough of Kensington and Chelsea, or you can choose to study English online in groups or in individual classes. Contact us online or via phone +44 (0) 207 605 4142.
Post your questions and comments: