How to assess the language levels of your employees: a step-by-step guide
Most of the world's top organisations have been operating internationally for decades, evolving within the global market to achieve greater market share, efficiency and leaner costs.
Enabled by technology and digital connectivity, global working is growing. Excellent language and communication skills are essential, and understanding that English is the lingua franca of business, many companies have adopted English as their corporate language to aid international communication. As international working becomes increasingly common, so does investing in the language skills of your teams.

A targeted training programme which focuses on the vocabulary and English skills most relevant to your company will deliver results, so how do you evaluate the language levels of your workforce and identify their training needs?
Here are 10 things to consider when assessing the language levels of your employees.
1. The purpose
What is the purpose? Would you like to increase revenue with a sales team that engages with clients and sells effortlessly? Do you want to improve the quality of written communication with external clients and stakeholders? Do you need people who can present to an audience confidently?
At the heart of planning a successful training programme is a clear understanding of the outcome. Is it to benchmark and establish the current and desired language levels for your employees to function at their best? If so, what level of English are you looking for? Does a clerk in the accounts team need the same level of English as the CEO?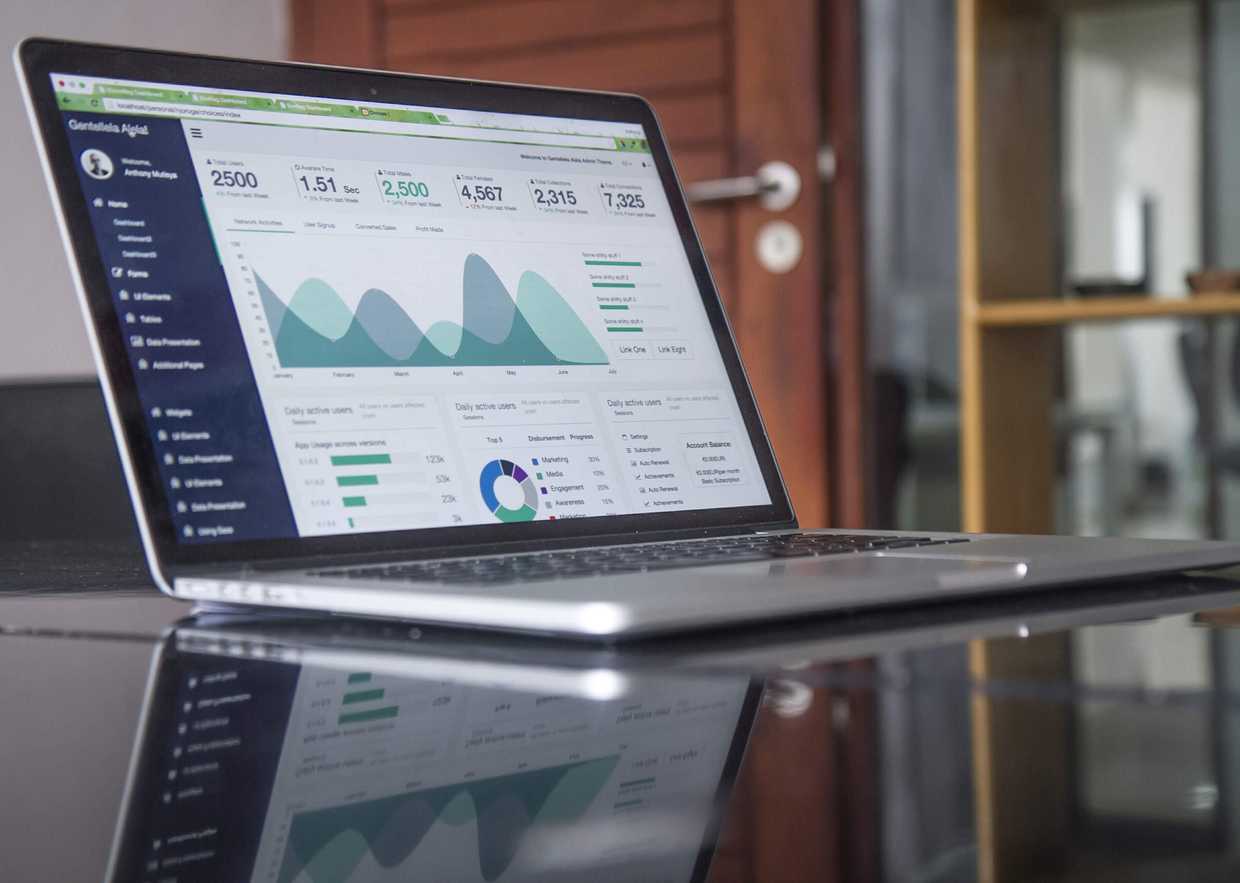 2. The different skills
Language skills are either passive or active. Reading and listening, our passive skills, tend to be stronger, while speaking and writing, our active skills, tend to show our weaknesses. It is not always necessary to test all four skills. What you choose to test largely depends on the job function of your employees. A legal team that checks contracts needs excellent reading skills and attention to detail. The team that bids for a tender will need outstanding writing skills, and strong speaking skills if making a final pitch to the clients.
3. The kind of language
Most tests cover general English. Based on the identified purpose, is this what you will need, or should you test Business English or an industry-specific language, such as Legal English? London School Online offers a range of test types and can work with you to create a bespoke testing and training solution.
4. Assessment methods
Once you have established all the points above, how are you going to assess language level? Knowledge of grammar, vocabulary, reading, listening and writing skills can all be tested comprehensively online. A speaking test will require an expert interlocutor or assessor. London School Online have qualified English examiners who conduct speaking interviews via Skype, the telephone or face-to-face, in person.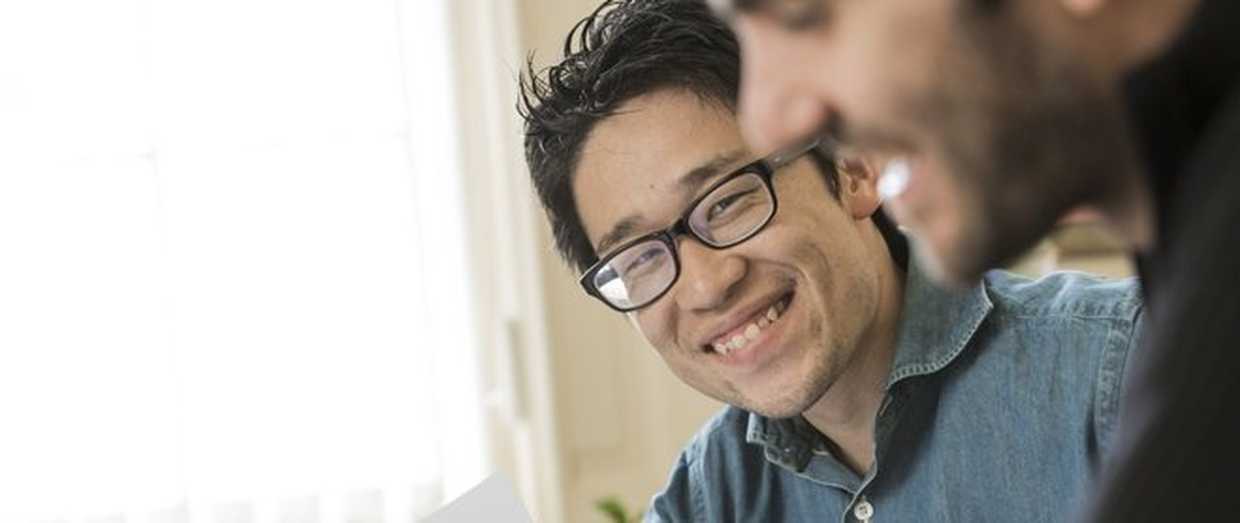 5. Available testing options
Now that you have a good understanding of how to progress, consider the various test options available.
Do you want to use a standard test that starts with easy questions and progressively gets more difficult, or an adaptive test that constantly adjusts the level of challenge according to the test-takers performance?
An adaptive test can last for a shorter period than a standard, fixed test as the test-taker is not wasting their time answering items that are too basic or too hard for them to attempt. This can save valuable time for employees who are sitting tests during working hours. The results still maintain the same precision as those of standard tests.
There are benefits to both and operating contexts where one may be more appropriate. The London School online offers both.
How about the format? Multiple choice or free form? Multiple choice is easy to administer and a familiar format for the test-taker, but results can be unreliable and skewed by lucky guesses. For example, a test-taker could select Option A as the answer to all questions and get approximately 25% of the answers correct. Free form questions allow for greater freedom of response and language levels can be more accurately assessed, yet this relies on human judgment to mark, making it a more labour intensive and time-consuming option.
When you have weighed up all the pros and cons and thought about what test suits your needs best, don't forget about the test participants.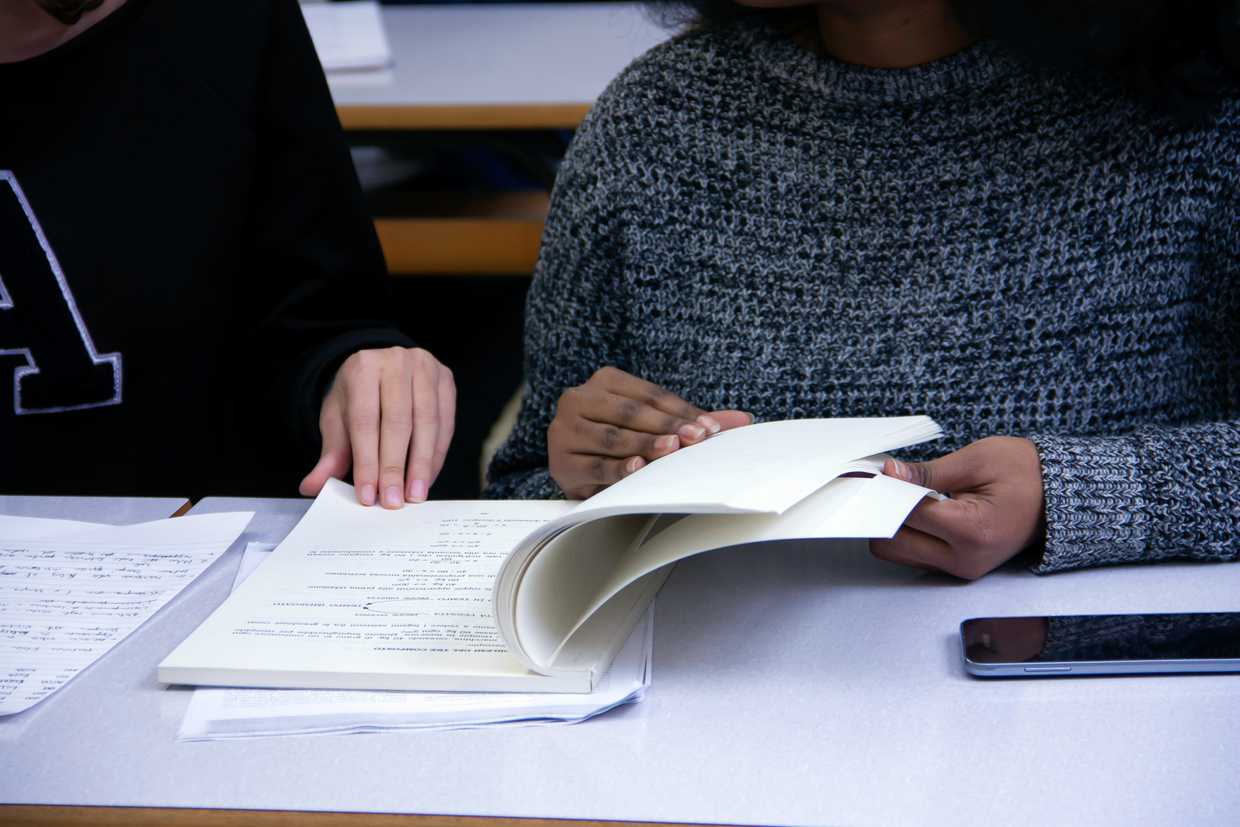 6. Time limits
Test-takers are not perfect! While some people thrive under the pressure of a time-limited test, for others the opposite is true. Performing under pressure can affect a true assessment of language abilities. Decide whether a time limit is necessary. Also, do consider the possibility of a test-taker being interrupted or called away, mid-assessment. Would you want the individual to pause and return at a later, or start again with an entirely new test?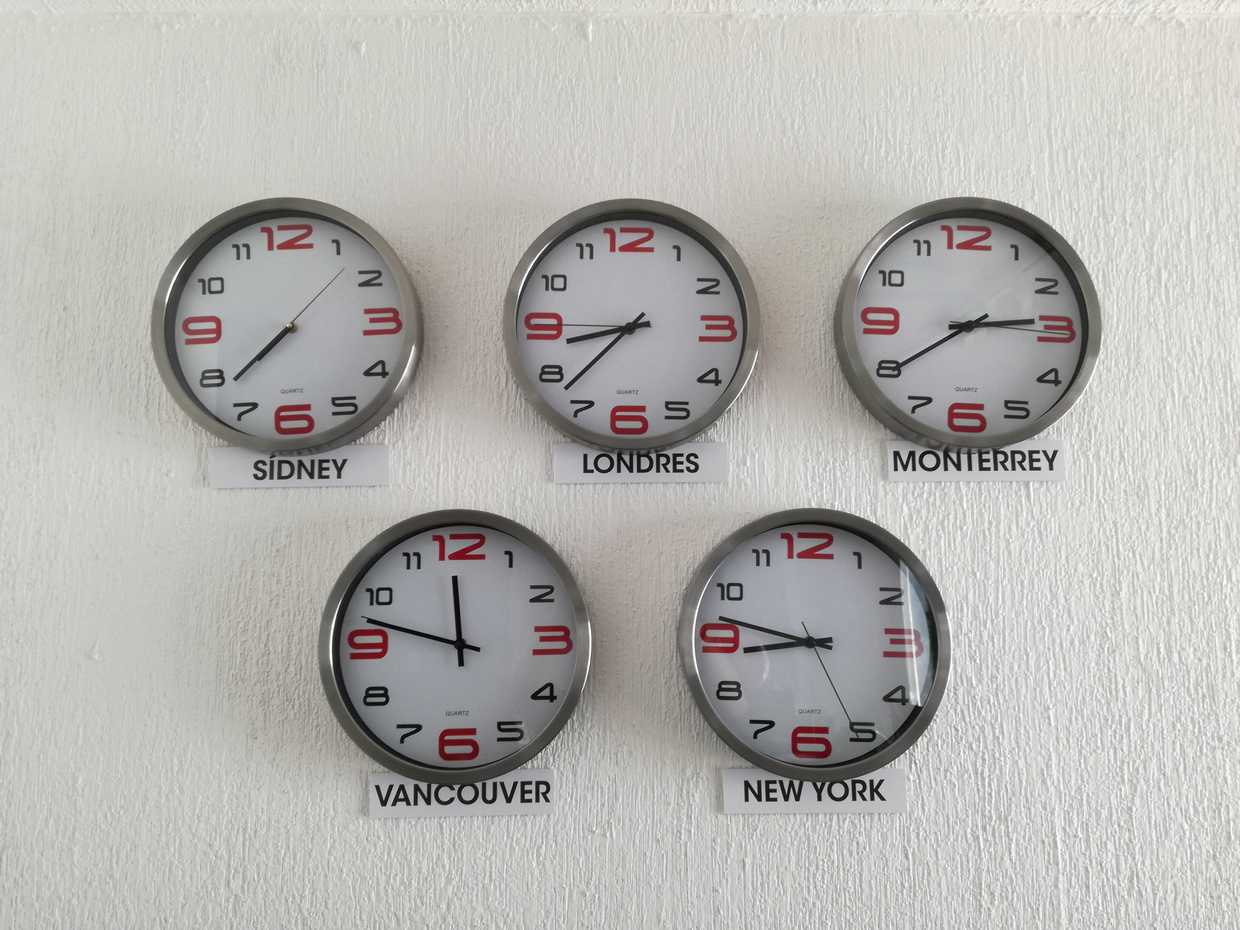 7. Context
A test will only show you what a person knows or doesn't know, not what they have known or will know. It is therefore important that you consider the balance between testing knowledge and testing what learners can do, especially as these skills are being used in the workplace.
Sometimes there is a risk that test questions may not be understood by the test-takers as the test developers intended. The content should always be appropriate for the context and cultures in which it is used. London School Online is experienced in operating on a global, and multi-disciplined scale and offers a range of tests or bespoke testing solutions.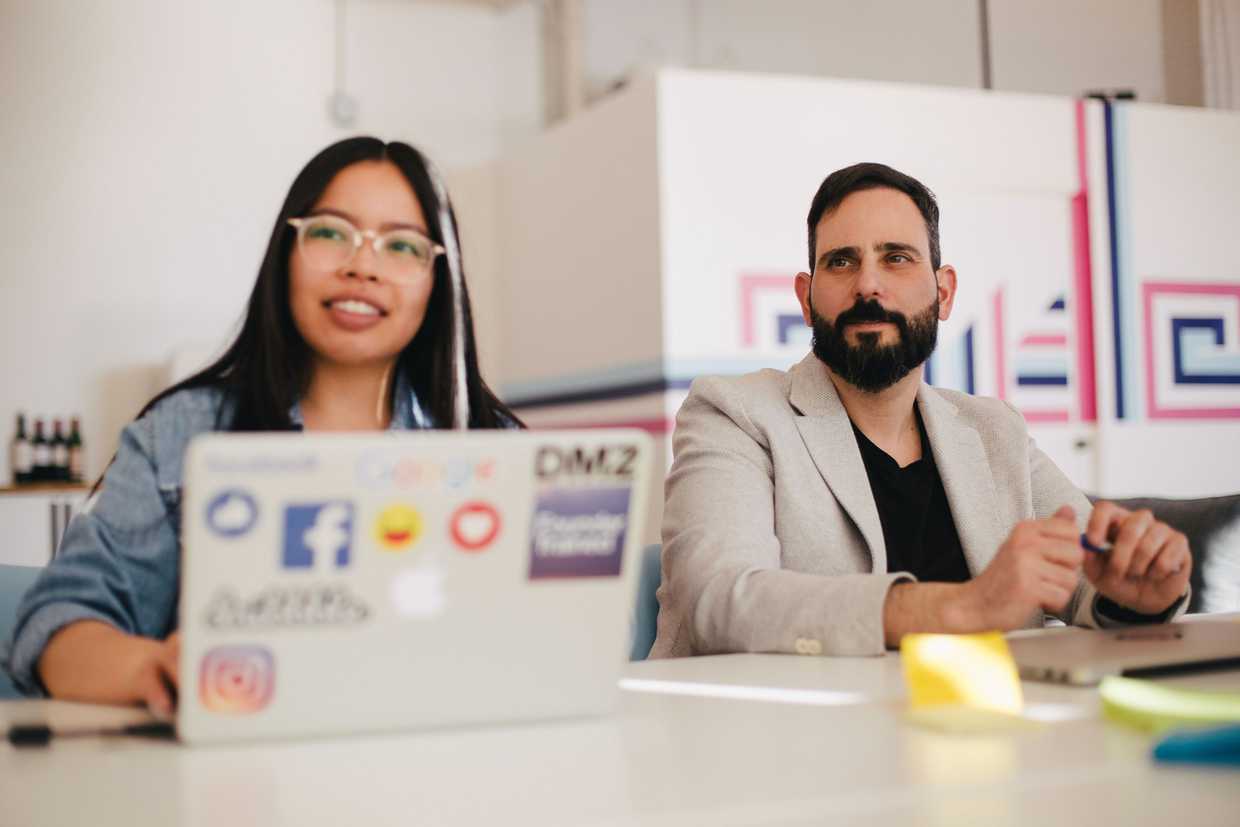 8. Delivery of results
How much of the results are you planning to share with test-takers on completion of their test? Do you want them to see what level they scored or for this to remain hidden? Analysis of performance can be delivered in a variety of ways, from a full and detailed breakdown of strengths and weaknesses and suggestions of areas of improvement, to a simple 'thank you for taking the test' message. What and how much the test takers see is entirely up to you.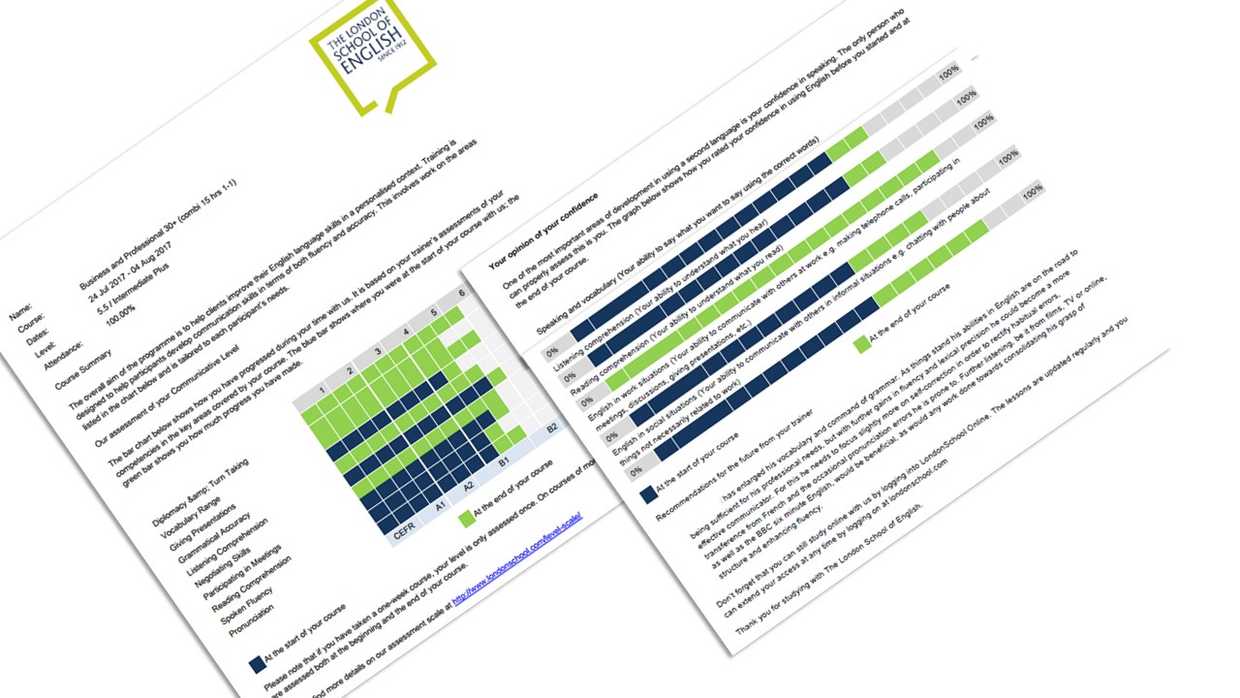 9. Next steps
An employee who has put aside 30 to 60 minutes of their time to take a test will expect something in return. It's important for their sense of well-being, and engagement with any training that follows, that assessment is followed up with either a detailed feedback session, a plan of action that addresses areas for improvement, or a mixture of both. Language and communicative ability is very personal to the test-taker. London School Online will work with you to provide a complete post-assessment plan and learning journey for your staff.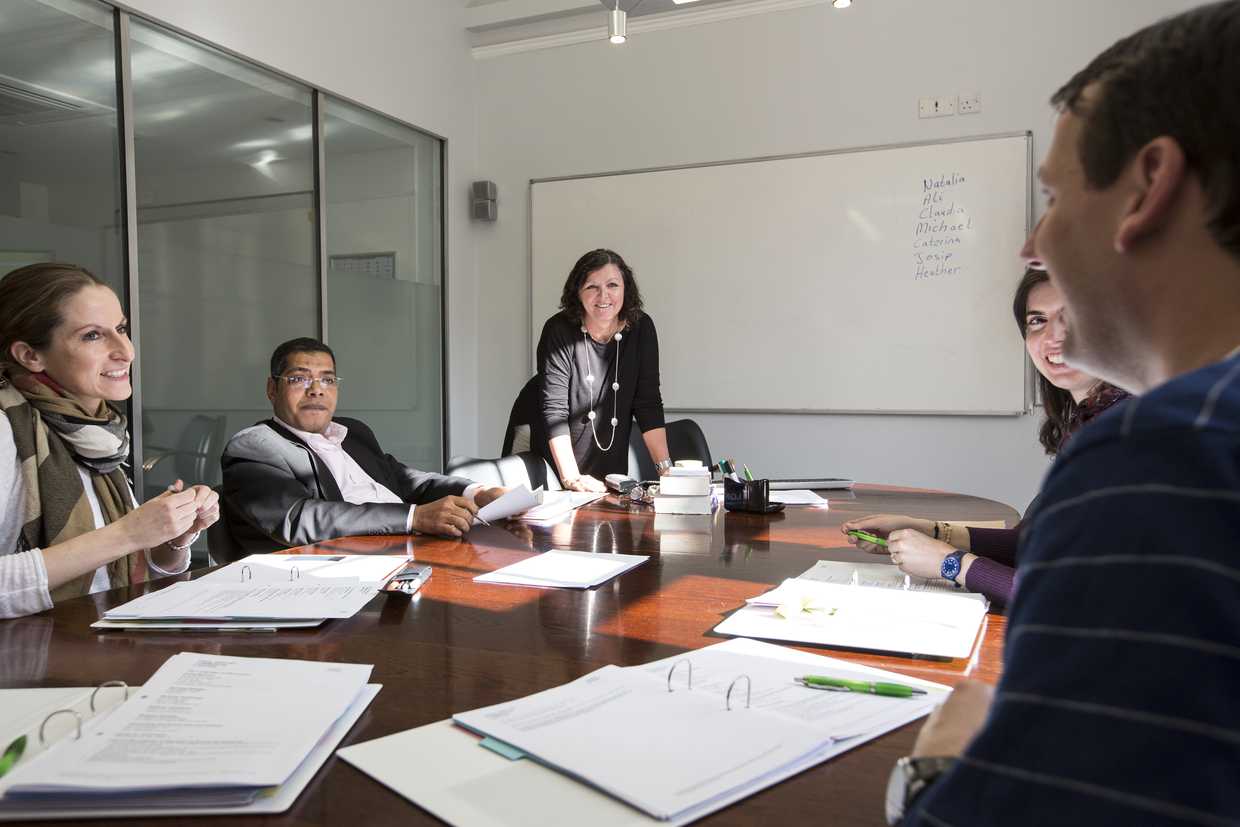 10. Ongoing evaluation and a culture of improvement
How will you continue to evaluate the language levels of your workforce? Do you want to have fixed annual assessments or prefer more discreet frequent assessments? London School Online has a platform and training solutions which allow for continuous assessment and progress checking that can support employee learning journeys and evolving business needs.
Obtaining a precise picture of the English language level of your employees and setting clear benchmarks will help shape a more targeted training programme. This training will equip your teams with the knowledge and skills that they need to perform at their best. By choosing a reputable provider you can be confident that the English language testing and assessment methodology is created by experienced professionals and can be tailored to meet your organisational objectives.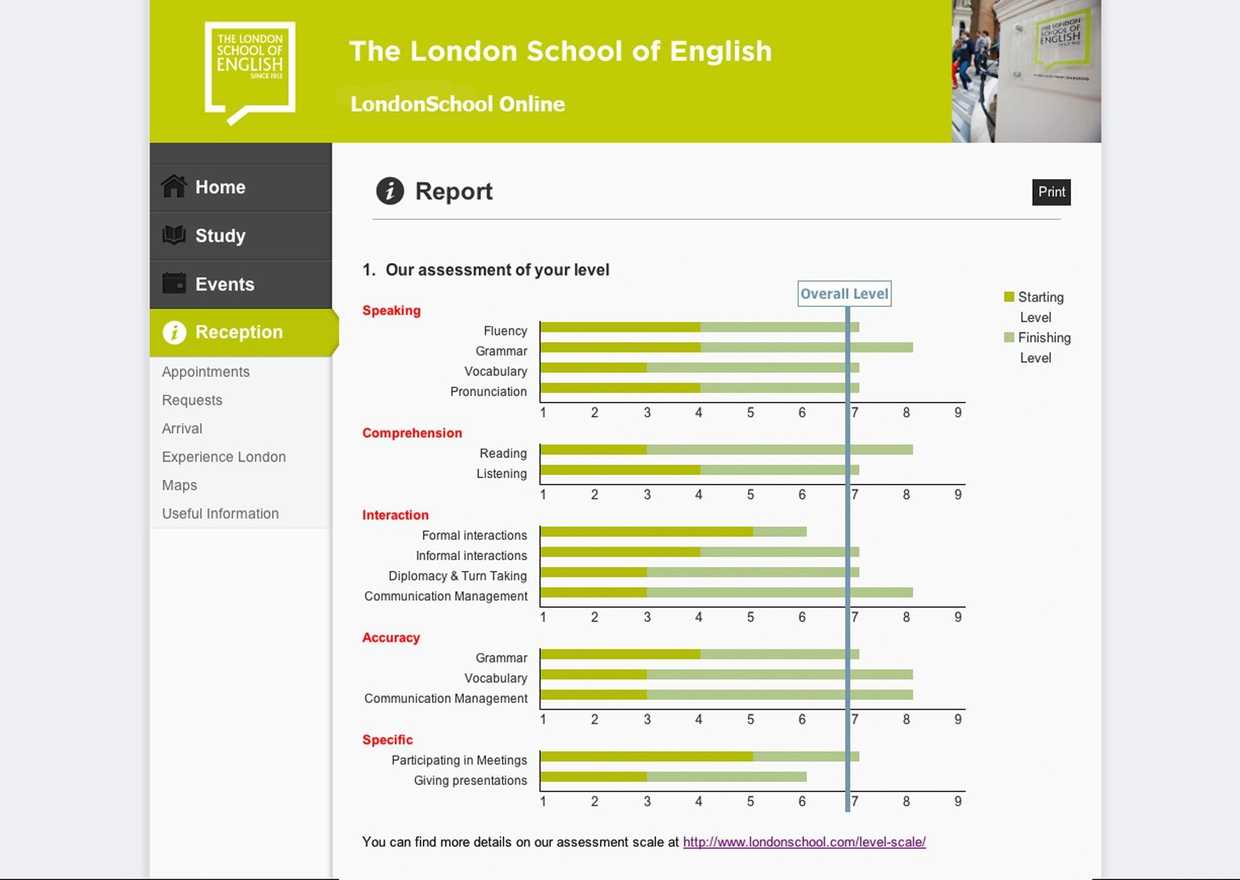 English language testing for your organisation
Whether you have one employee or thousands, you can choose from free initial online language assessments or premium customised assessments on our platform branded with your identity.
More from the corporate blog:
Find out more
Post your questions and comments: