Essential English for start-ups: pitching your business to investors
After months or years of hard work developing a product or a service, you may now need to inject cash into the business through investors. Often, as part of this process you'll need to present your idea. This type of presentation, where you are presenting your business ideas with the aim of securing sales or investment, is called a business pitch. This blog post looks at expressions and vocabulary that are commonly used in business pitches.
Essential expressions to use during the pitch
The first few seconds of the pitch are the most important for making a good impression. Capture your audience's interest by telling them succinctly what you are going to tell them during the presentation. Here are some suggestions for the opening of your pitch:
Today, I am going to…
…take a look at the recent boom in online sales.
…tell you why our product is in high demand.
…show you financials to back this up.
…summarise the main reason why we have a competitive edge.
I'll begin by...
… giving you an overview of current trends.
…outlining our policy on bad debt.
…commenting on our current sales figures.
And then I'll move on to…
…highlight why customers buy our products.
…focus on the reasons we stand out in the marketplace.
…put all of this into perspective in relation to current market trends.
Essential acronyms and vocabulary for start-ups
Here are the most common acronyms and vocabulary that are common to all industries and that are sure to be mentioned by a potential investor.
USP = Unique Selling Point of a company, product, or service. What makes it different? Investors want to know why customers should chose you and what makes your product or service different to what is already available.
NDA = Non-Disclosure Agreement. This is a legal document which protects your company from having sensitive information used or shared in ways you are not happy with.
ROI = Return On Investment. This is the amount of money you get back on an initial amount that you invested.
Buy-in (noun). This is agreeing with or accepting something that someone suggests.
Leverage (noun). This is the power to influence people and get results.
Scalable (adjective). This describes a business or system that is able to grow or to be made larger.
Angel investor (noun). This is a person who invests money in new companies.
Edge (noun). This is used to describe when you have an advantage over other people or companies.
Examples of how these can be used in context:
Effective start-ups must understand how to communicate their vision and create buy-in for it.
A good slide deck gives start-ups more leverage when it comes getting business angels to invest.
If start-ups want to get companies or individuals to invest, they have to demonstrate that their idea is scalable.
Most start-ups need an angel investor.
An investor wants to know what your competitive edge is.

Essential phrasal verbs
The English commonly used by start-ups might appear a bit less formal than you are used to or that you are expecting. Here are examples of phrasal verbs you can use:
Sort out
Stick to
Set up
Move into
Come up with
Narrow down
Carry out
Look into
We had some issues with the application not being user-friendly enough, but we have now managed to sort this out.
We thought about changing the features of the product but decided to stick to our initial plan.
Our plan was to set up a task team to deal with feedback.
Our product is currently only available in Europe. We plan to move into the Asian market next.
We have come up with several strategies to deal with payment issues.
We had several options to deal with technical issues. We have now narrowed them down to the five most important ones.
We have carried out extensive research into current trends
We have looked into why users prefer more images with text.
Essential preparation
Here are a few key points to consider in preparation for your pitch.
Create an engaging slide deck
Use the key words that are commonly used in the sector
Practise your pronunciation, intonation, word stress, pacing and pausing
Check spelling and grammar
Good luck!
This blog has been written at level C1. Practise your reading and listening by reading the blogs below.
---
About The London School of English
The London School of English has over 100 years of history teaching English and communication skills to adult learners. It is the joint #1 English language school in the UK according to the British Council inspections, the highest rated English language school in the world on Trustpilot, and the best value for money school according The English Language Gazette.
Our practical, individualised approach enables our clients to learn effectively and make rapid progress. Courses include General English, Individual English training, Legal English, Business and Professional English, IELTS preparation and Academic English. We also offer bespoke business solutions for staff training and assessment.
You can learn English with our expert trainers in our London centre at 15 Holland Park Gardens, in the Royal Borough of Kensington and Chelsea, or you can choose to study English online in groups or in individual classes. Contact us online or via phone +44 (0) 207 605 4142.
Recommended courses:
More English tips and skills
Post your questions and comments: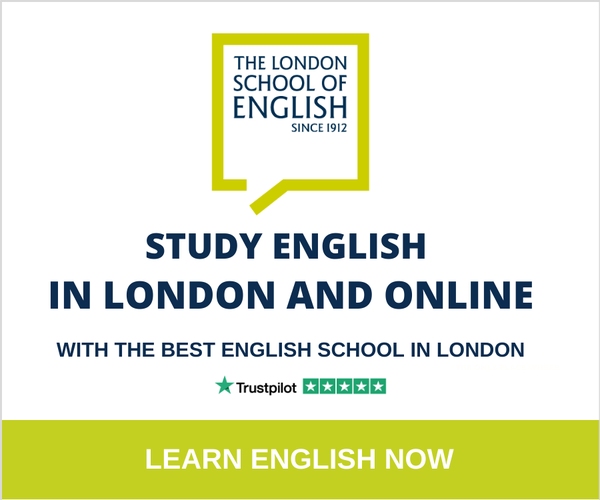 Why study at The London School of English?
Rated "Excellent" in over 1300 independent client reviews
Over 100 years of experience
Tailored training delivers clear results
Memorable experiences in London or online
Find out more